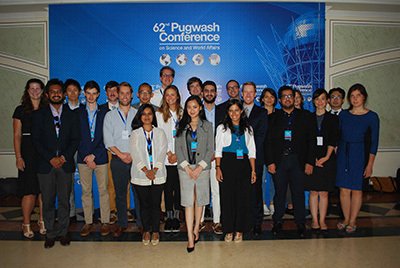 Chairman of the Senate Kassym-Zhomart Tokayev took part in the closing ceremony of the 62nd Pugwash Conference of Scientists "Confronting New Nuclear Threats", Kazakhstan Today reports.
The forum, which was held in Astana from August 25 to 29, brought together prominent scientists, politicians, representatives of the United Nations and other international organizations, security experts, the Senate press service reported.
In his speech, Tokaev recalled that the Pugwash Conference had been known since its convening by its scientific ideas, a meaningful and constructive dialogue on the most pressing issues of building a world free of nuclear weapons. The speaker highly assessed the role of the Pugwash movement in the widespread dissemination of the idea of ​​disarmament among citizens of various states, including youth.
He also noted that Kazakhstan has given a new impetus to the international anti-nuclear movement. "This day, 26 years ago, the Semipalatinsk nuclear test site was closed in accordance with the historic decree of President Nursultan Nazarbayev, who plays a key role in global efforts in the field of non-proliferation and disarmament," the Senate Chairman stressed.
In conclusion Tokaev expressed his belief that the Republic of Kazakhstan will continue fruitful contacts with the Pugwash movement for the sake of strengthening peace and security.