On March 30 and 31, 2022, in accordance with the action plan for 2022, members of the Pugwash Committee of Kazakhstan took part in organizing and conducting a two-day online seminar. The workshop was organized by British Pugwash. The agenda of the seminar was dedicated to the issues of nuclear risk reduction and contained 8 reports presented by the participants of the seminar.
The moderators of the seminar were Zhantikin T.M., member of the PCK, General Director of JSC KNPP and Batsanov S.B., member of the International Pugwash Movement. Presentations were presented from the Kazakh side by Zhantikin T.M., Savelyev S.R., Miniyazov A.Zh., Igibaev U.A. and from the British side Ingram P., Samuel O., Spencer G., Ellwood D. (full agenda of the workshop is attached here).
Also Jenkins P., Chairman of the British Pugwash, Aliyev S.A., Director of the ICAТ at the NSK, Kairolda A. and Omarov A., councilors of the Kazakh Embassy in the UK, took part in the seminar.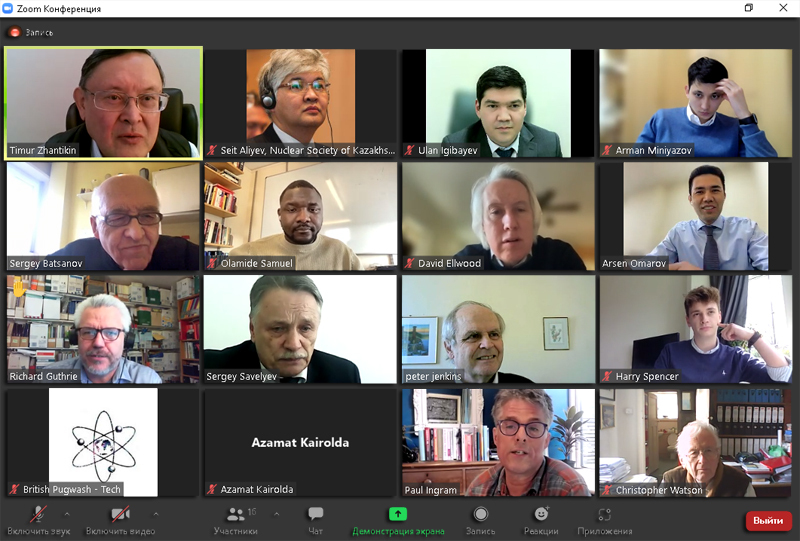 All participants actively participated in the meetings of the presented reports. The agenda of the seminar covered issues of international security, the importance of compliance, disarmament and non-proliferation, the historical experience of Kazakhstan in closing the Semipalatinsk test site and bringing it to a state of security.
Following the results of the seminar, the organizers highly appreciated the reports of the Kazakh participants and expressed gratitude to all those who spoke for the light they shed on important aspects of nuclear risk reduction. This successful event is an important part of the sustainable development of cooperation between the Kazakhstan Pugwash Committee and the British Pugwash towards achieving the goals of the International Pugwash Movement of Scientists.